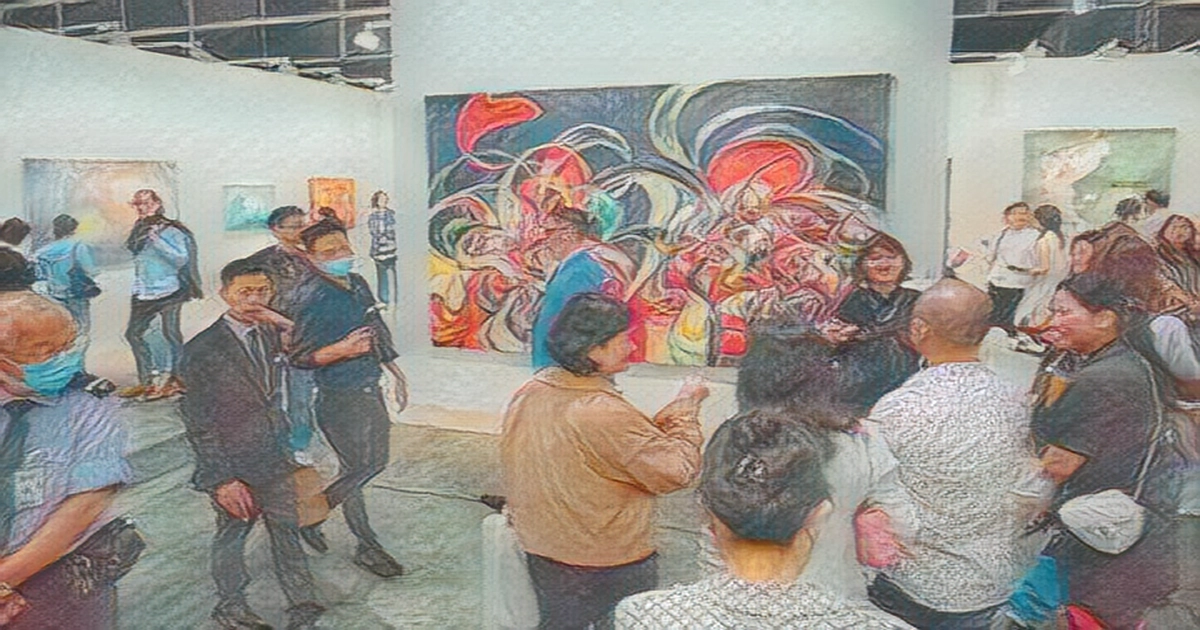 PHOTO AFP HONG KONG Thousands of people gathered on Thursday into Art Basel Hong Kong, one of Asia's largest contemporary art fairs, to view large-scale installations from hanging money trees to a pumpkin 8 feet 2.4 m tall.
The annual fair, which has editions in Basel, Paris, and Miami Beach, will run from March 23 to 25. The 2023 event is the first in four years to be held in full after 2020's cancellation and the next two mostly put on line.
Large queues of people, most of whom don't wear masks, were seen entering the venue. Art Basel Hong Kong is one of the first big events the city has held since it dropped its COVID 19 mask mandate this month.
After three years of COVID closures, galleries at the fair said the reopening of the border with the Chinese mainland had helped boost business.
Aimee Man, a sales director at Peres Projects, said 70 percent of the gallery's art pieces had been sold in the pre-selling session before the fair.
We are really excited to be back after almost four years. This year is really different because the borders are reopening. The art fair is welcomed by city authorities as they try to reinvigorate the economy and promote the Hong Kong Special Administrative Region as a vibrant cultural hub.
The city is also hosting two financial summits this week, followed by the three-day Rugby Sevens tournament and music festival Creamfields next month.
Li Danqing, a senior international partner at LGDR gallery, said things were returning to normal. She said people were more informed about the artwork but still cautious because of the strife in the banking industry.
She said that everyone is more cautious but making wiser and wiser decisions when it comes to buying.
READ MORE: Curation key to HK becoming a hub for art and cultural exchanges.
Popular artwork includes Yayoi Kusama's Pumpkin a yellow and black polka-dotted sculpture and a hanging installation made of 13 twisted plants known as money trees. The latter aimed at alluding to peoples' collective experience of lockdown during COVID.
Visitors will be able to visit Art Basel at the Hong Kong convention and exhibition centre on May 19, 2021. PHOTO AFP Teresa Choi, a visitor from Macao SAR, said Hong Kong was much busier than during COVID times.
Hong Kong has always been an international financial hub for Asia Travelers who want to come and gain confidence in Hong Kong and the economy.