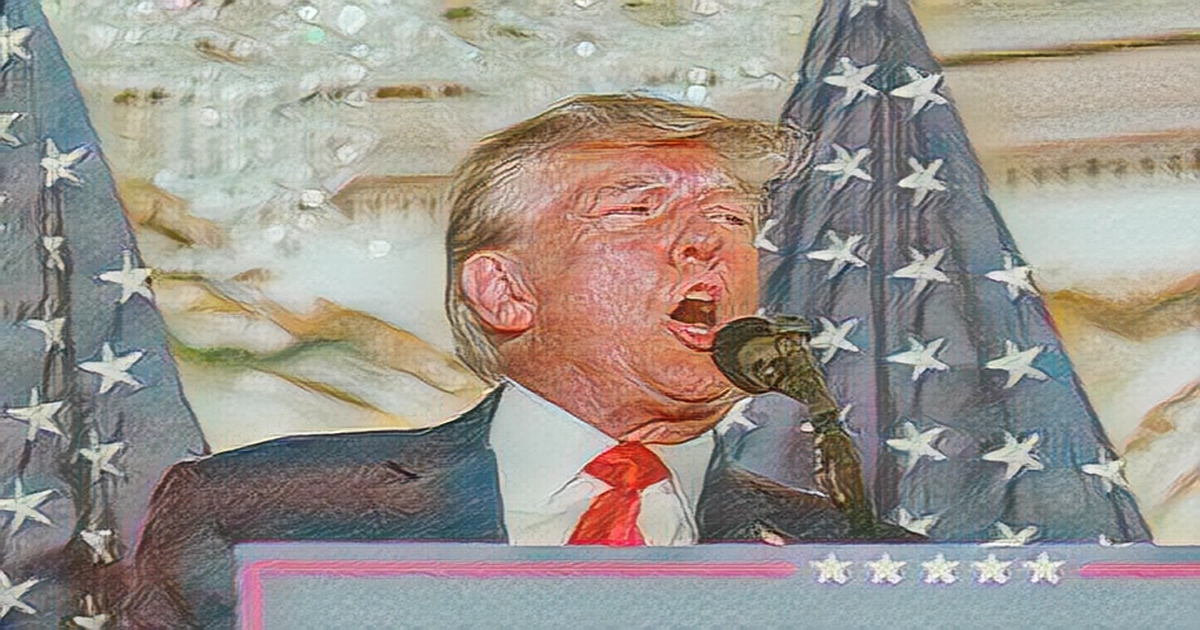 PALM BEACH, Florida - A subdued former President Donald Trump lashed out on Tuesday at New York State Attorney Alvin Bragg for bringing criminal charges against him and declared himself the victim of election interference without any evidence.
Trump said he never thought anything like this could happen in America. The only crime I have committed is to fearlessly defend our nation against those who try to destroy it. Earlier in the day, Trump pleaded not guilty in a Manhattan court to 34 felony counts of falsifying business records, as prosecutors accused him of orchestrating payments to two women before the 2016 election to suppress publication of their sexual encounters with him.
Trump, who is running for the Republican presidential nomination in Florida on Tuesday night, gave a relatively short speech, 25 minutes, compared to his rally speeches that can sometimes last two hours.
Despite launching a tirade against prosecutors, he did not call for new protests from his supporters. He is expected to return to the campaign trail soon, but he didn't give any details of that.
Trump, 76, reached deep into his own personal grievances to declare himself hounded by political opponents using the legal system against him to try to stop him from winning the White House in 2024.
Trump accused Manhattan District Attorney Bragg of being out to get him before he knew anything about me. He said that the judge in the case, Juan Merchan, is a Trump-hating judge. He did not offer any evidence to support his claim that they were taking their actions in order to undermine his White House bid.
Trump took a fresh shot at all the legal cases against him, including the handling of classified documents that were taken to Mar-a-Lago after Trump left the White House in early 2021, the investigation into the Jan. 6, 2021 assault on the U.S. Capitol and the election interference case he is facing in Georgia from the 2020 election.
Trump expressed concern about the investigation of the documents case by special counsel Jack Smith, who he called a lunatic a number of times.
He said the cases were an attempt to thwart his third run for the presidency, and he called it massive election interference at a scale never seen. Among the many combative, diehard Trump supporters gathered in a mar-a-Lago ballroom were Republican lawmakers Marjorie Taylor Greene and Matt Gaetz, long-time operative Roger Stone, pillow maker Mike Lindell, former U.S. ambassador to Germany Richard Grenell and Trump sons Donald Trump Jr. and Eric Trump.
Melania, Trump's wife, was not seen in the ballroom.
Among the hundreds there was Nathan Mitchell, 18, the incoming president of the College Republicans club at Florida Atlantic University.
He said that he was there to support a man who represents the best chance that America has to become great again. Mitchell said of the accusations brought against Trump, it humiliates us all in front of the world. Alex Gonzalez, 45, who operates a security company in Palm Beach, said he was there to show the former president that the people believe in him and that he was wearing a black leather biker vest with a Born to Ride patch above the number 45.
It is all a charade, man, it is all a witch hunt, Gonzalez said. Trump should not be held above the law if he does something wrong and should be held liable like anybody else. This is BS and everyone knows it.