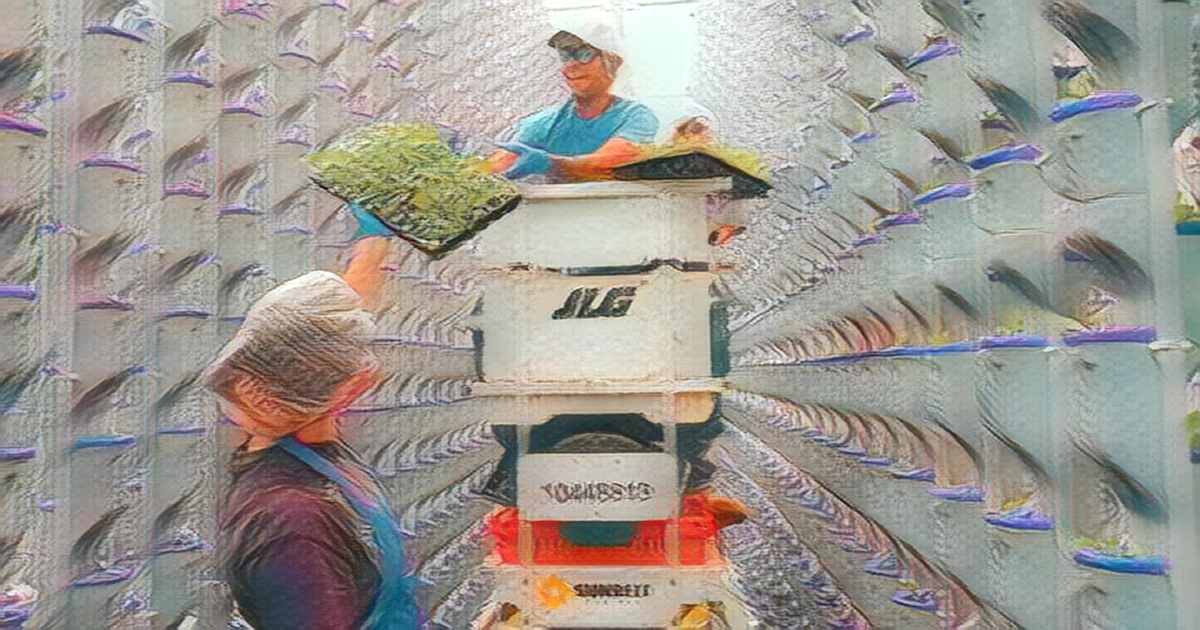 In a bright greenhouse about an hour outside Dallas, workers in hairnets and gloves place plugs of lettuce and other greens into small plastic containers - hundreds of thousands of them - that stack up to the ceiling. Once the vegetables grow to full size, they'll be picked, packed, and shipped within 48 hours to local shelves.
Eden Green Technology, one of the latest crop of indoor farming companies, is searching for their fortunes with green factories meant to pump out harvests of fresh produce throughout the year. The company has two greenhouses and has built two more at its Cleburne campus, where the indoor facilities are meant to cushion their portion of the food supply from climate change while using less water and land.
And players in the industry are betting big, even as rivals wobble and fail. This summer, Plenty Unlimited, the California-based company, opened a $300 million facility, while Kroger announced that it will be expanding its offerings of vertically farmed produce. Two indoor farming companies that attracted strong startup money - New Jersey's AeroFarms and Kentucky's AppHarvest - filed for bankruptcy reorganization. Planted Detroit, a five-year-old company in Detroit, shut its doors this summer, with the CEO citing financial problems just months after boasting plans to open a second farm.
The industry churn does not bother Jacob Portillo, a grower with Eden Green, who directs a plant health team and monitors irrigation, nutrients and other factors related to crop needs.
s going to happen in any industry you go to, but especially for us, I think that especially as sustainable as we're trying to be, the sustainable competitors I think are going to start winning, he said.
Vertical farming involves stacking produce from floor to ceiling, often under artificial lights, and with the plants growing in nutrient-enriched water. Other growers are trying industrial greenhouses, indoor beds of soil in massive warehouses, and special robots to mechanize parts of the farming process.
Advocates say growing indoors uses less water and land and allows food to be grown closer to consumers, saving on transportation. Climate change has also made it possible to protect crops from more severe weather. The companies frequently advertise their products as free of pesticides, though they're not usually labeled as organic.
Despite being a skeptic, skeptics question the sustainability of operations that can require energy-intensive artificial light. And they argue that paying for this light can make profitability impossible.
Tom Kimmerer, a plant physiologist who taught at the University of Kentucky, has overseen the development of plants both inside and outside the home. He said his first thought on vertical farm startups - especially those heavily reliant on artificial light - was, mainly due to high energy costs.
The industry has accepted those high costs. Some companies are looking to push them down by relying on solar, which they say also supports sustainability. Even those most heavily reliant on artificial light that doesn't come from renewables maintain they can be profitable by eventually producing a large volume of produce year-round.
Kimmerer thinks there are better ways to provide food locally and extend the growing season - outdoors. The organic farmstand-oriented Elmwood Stock Farm in Lexington, Kentucky can grow tomatoes and greens the whole year using tools like high tunnels, also known as hoop houses, that shelter crops while still being partially open to the outdoors.
He thinks investment flowing toward new versions of indoor farming would be better spent on practical solutions for outdoor farmers like weed-zapping robots, or climate solutions like subsidizing farmers to adopt regenerative practices.
While moving farming outside can solve some pest problems, it can also create new ones. With their natural outdoor predators, tinier creatures like aphids, thrips and spider mites can become very difficult to control if not managed aggressively, said Hannah Burrack, an ecologist who specializes in pest management at Michigan State University.
Creating the perfect environment for plants, in many cases, you're also creating a perfect growing environment for their pests, Burrack said.
Indoor farming firms counter this by emphasizing high hygiene, for example, Eden Green touts 'laboratory conditions' on its website and says workers closely monitor their greenhouses to immediately catch any pests. They also said that vertical farms actually need fewer pesticides than outdoor plants do, reducing environmental effects.
Evan Lucas, an associate professor of construction management at Northern Michigan University, who teaches students about proper infrastructure design for indoor farms, said he is not concerned about the shakeout. Some companies may be grappling with scaling up, with problems that come from launching in spaces that aren't necessarily built specifically for indoor farming, he said.
''S happening, is everyone saw the opportunity and started to try to do a lot really quickly,'' Lucas said.
Eden Green's CEO, Eddy Badrina, says that the company has figured out a way to rely on natural light for their plants. Plenty CEO Arama Kukutai said the company's lighting system is efficient enough for the company to be profitable. Soil indoors gives Soli a better product than companies that grow in water.
Plenty received a significant boost of confidence last year when Walmart announced a $400 million investment that included bringing the company's produce into its stores.
Curt Covington, a senior director of institutional business at AgAmerica Lending, a private investment manager and lender focused on agricultural land, isn't convinced that indoor farming operations can work, except maybe in cases where big retailers and greenhouses team up, like Walmart and Plenty, or where grants for urban and vertical farm operations that benefit communities could be made as a form of socially conscious venture capital.
It's just hard, given the capital intensity of these types of businesses, to be very profitable, he said.