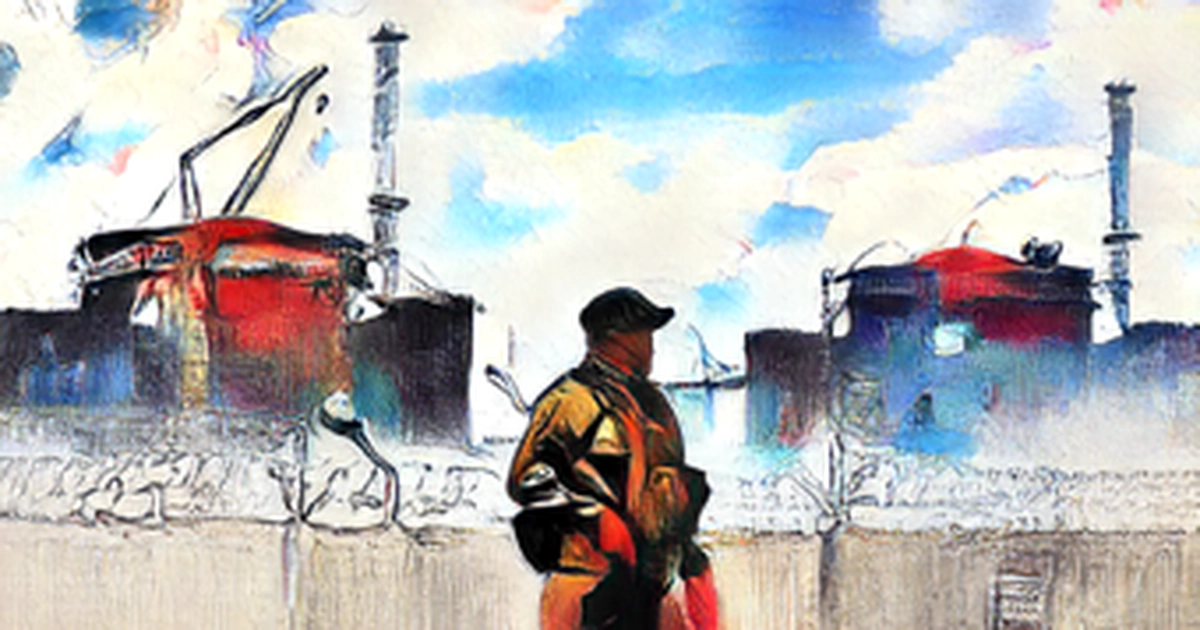 Moscow accused Ukraine of attacking near-used fuel storage at the Zaporizhzhia power plant, while Ukrainian intelligence said it was a move by Russia to destroy infrastructure.
Ukraine accused Russian forces of imperiling a captured nuclear power plant, saying that a catastrophic radiation leak was miraculously avoided after rockets landed on the complex's grounds. It was the latest threat to Europe's largest nuclear facility, where fighting in the southern region has sparked fears of a major accident. The rockets fired Saturday night hit near a dry waste-fuel storage facility containing 174 casks, each with 24 assemblies of spent nuclear fuel, according to Energoatom, Ukraine's nuclear energy company. One person was wounded by shrapnel and many windows were damaged in the attack, which a pro-Russian regional official attributed to Ukrainian forces. Russian forces have been controlling the Zaporizhzhia plant since March, using it as a base to launch artillery barrages at the Ukrainian-controlled town of Nikopol across the Dnipro River for the past month. Saturday's attack included a volley of rockets that Ukrainian officials said damaged 47 apartment buildings and houses, adding that Ukraine can't answer the attacks for fear that a counterassault would cause a radiation disaster.
There are still risks of hydrogen leakage and sputtering of radioactive substances, and the fire hazard is high, the nuclear energy company said in an earlier post. The fighting, along with Russia s occupation of parts of the plant and the stress borne by plant workers, prompted Rafael Grossi, the head of the International Atomic Energy Agency, the United Nations nuclear watchdog, to warn that every principle of nuclear safety has been violated. He said in an interview with The Associated Press that conditions at the plant are out of control.
Since Russia invaded, Ukraine s grain has disappeared from the world market, helping inflate global food prices and endanger millions of people at risk of going hungry. The five-month shortage has just begun to be slowed thanks to a deal last month that allowed Ukrainian agricultural products to leave embargoed ports. Four ships carrying more than 160,000 metric tons, or about 176,000 U.S. tons, of sunflower oil, corn and meal sailed from Ukrainian ports on Sunday as part of the deal, the United Nations said. Experts have warned that the global food crisis could last for years, fueled by the continuing fallout from various wars, the Covid 19 epidemic and extreme weather worsened by climate change. The war in Ukraine has also pushed the world back to the all-too familiar politics of the Cold War, with the United States and its Western allies aligned against Russia, China and others, leaving many less powerful countries caught in between. On Sunday, the divide was again on display when Secretary of State Antony J. Blinken arrived in South Africa, becoming the third high-ranking American official to visit Africa in two weeks. The visit of Mr. Blinken comes after a charm-offensive tour of African countries by his Russian counterpart Sergey V. Lavrov, in which Mr. Lavrov blamed for food shortages.